Counseling hotline
William Zeng
Mobile:+86 15012841936
WhatsApp:+8615012841936
WeChat:15012841936
Skype:+8615012841936
E-mail:hofosales@hotmail.com
Address: Room 412, Siyufu, Number 10, Nanxin Road, Longgang District, Shenzhen, China
Short Construction Period of Membrane Structure Building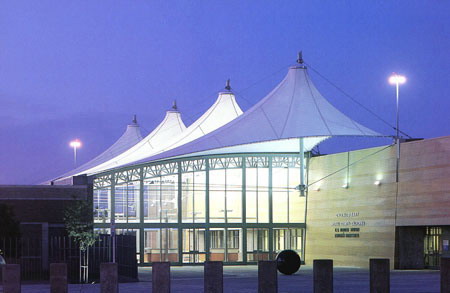 The membrane structures are becoming more and more popular engineering buildings around the world. One of the advantages of membrane structures is their construction period is shorter than other traditional architectures.

Why the membrane structure has shorter duration of construction? The main reason is that the main structure components are manufactured in the factories in advance and then assembled in the construction site. The steel structures, steel cables and membranes are manufactured and processed in the factories. They are installed in the construction site with less complicate processes and time. Conversely, the traditional building, such as concrete construction, should be processed step by step. It will take more time to wait to achieve the standard in every procedure.

The membrane structures has short construction period which is ideal for the commercial buildings. It will help the investor to get faster return on their investment.
Text keyword:
membrane structure material, fabric materials, tensile fabric structure