Counseling hotline
William Zeng
Mobile:+86 15012841936
WhatsApp:+8615012841936
WeChat:15012841936
Skype:+8615012841936
E-mail:hofosales@hotmail.com
Address: Room 412, Siyufu, Number 10, Nanxin Road, Longgang District, Shenzhen, China
Exploring the Architecture of Tension
Tensile architecture is a structural system that predominantly uses tension instead of compression. Tensile and tension are often used interchangeably. Other names include tension membrane architecture, fabric architecture, tension structures, and lightweight tension structures. Let's explore this modern yet ancient technique of building.
Pulling and Pushing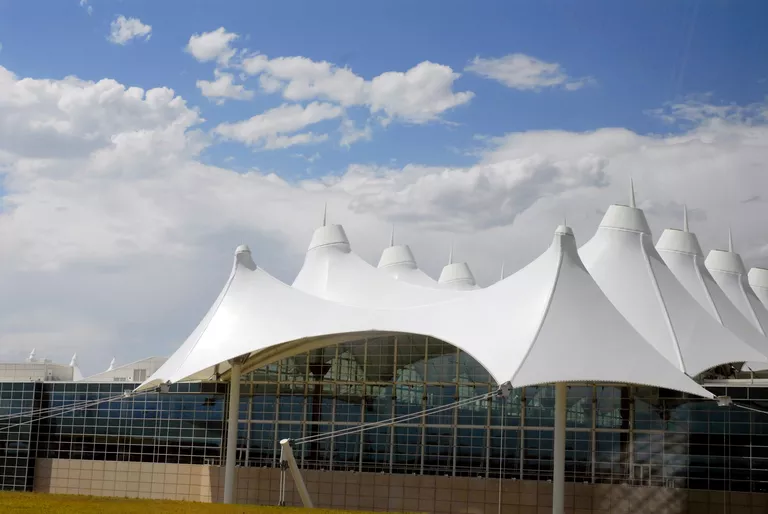 Tensile Membrane Architecture, Denver Airport 1995, Colorado. Photo by Education Images/UIG/Universal Images Group Collection/Getty Images
Tension and compression are two forces you hear a lot about when you study architecture. Most structures we build are in compression — brick on brick, board on board, pushing and squeezing downward to the ground, where the weight of the building is balanced by the solid earth. Tension, on the other hand, is thought of as the opposite of compression. Tension pulls and stretches construction materials.
Definition of Tensile Structure
" A structure that is characterized by a tensioning of the fabric or pliable material system (typically with wire or cable) to provide the critical structural support to the structure."— Fabric Structures Association (FSA)
Tension and Compression Building
Thinking back at human-kind's first man-made structures (outside the cave), we think of Laugier's Primitive Hut (structures mainly in compression) and, even earlier, tent-like structures — fabric (e.g., animal hide) pulled tight (tension) around a timber or bone frame. Tensile design was fine for nomadic tents and small teepees, but not for the Pyramids of Egypt. Even the Greeks and Romans determined that large coliseums made from stone were a trademark of longevity and civility, and we call them Classical. Throughout the centuries, tension architecture was relegated to circus tents, suspension bridges (e.g., Brooklyn Bridge), and small-scale temporary pavilions.
For his entire life, German architect and Pritzker Laureate Frei Otto studied the possibilities of lightweight, tensile architecture — painstakingly calculating the height of poles, the suspension of cables, the cable netting, and the membrane materials that could be used to create large-scale tent-like structures. His design for the German Pavilion at Expo '67 in Montreal, Canada would have been much easier to construct if he had CAD software. But, it was this 1967 pavilion that paved the way for other architects to consider the possibilities of tension construction.
How to Create and Use Tension
The most common models for creating tension are the balloon model and the tent model. In the balloon model, interior air pneumatically creates the tension on membrane walls and roof by pushing air into the stretchy material, like a balloon. In the tent model, cables attached to a fixed column pull the membrane walls and roof, much like an umbrella works.
Typical elements for the more common tent model include (1) the "mast" or fixed pole or sets of poles for support; (2) Suspension cables, the idea brought to America by German-born John Roebling; and (3) a "membrane" in the form of fabric (e.g., ETFE) or cable netting.
The most typical uses for this type of architecture include roofing, outdoor pavilions, sports arenas, transportation hubs, and semi-permanent post-disaster housing.
by Jackie Craven, Excerpt from thoughtco
Text keyword:
tension membrane structure, stadium tent structure, car parking structures